Job opportunities after M.com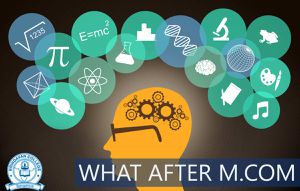 Many times in life we come face to face with a choice that has a huge influence on how our life is going to be like. That when we need the right guidance and support.
Some of those decisions are related to our educational choices. What college to join after 12 and then what career choice should be opted for are some such decisions that matter a lot.
Once through with all that and almost done with your posts graduation you still find yourself standing against that big question, what next!
If you have or are to complete your M.com you must be harassed by everyone's question about your future plans. You also must be having sleepless nights bothering about where to place yourself once you get your M.com degree.
Well here are some great career options that you can consider once through with your M.com:
1- A great option to go for would be nationalized banks like State Bank of India, Union Bank of India or others. Bank probationary officer or customer relationship executive are extremely stable job options.
2- Heavy Engineering Corporation Limited, Bharat Sanchar Nigam limited or other or other such reputed public sector undertaking.
3- Some other career opportunities in the public sector are-
> Finance and Accounts officer in Bangalore Metro Rail Corporation Limited.
> Railway Recruitment Board as Audit officer.
> National Small Industries Private Limited as a Management trainee to start with.
All these options offer decent money bringing in a package ranging from three to four lacs per annum.
4- Private sector is not a bad choice either. With options like:
> FMCG companies like Nestle India, Hidustan Uniliver Ltd, Cadbury India have job openings in their finance and accounts section for post graduates.
> Insurance companies like HDFC life insurances, Bajaj Allianz Life Insurance Company Ltd also take up M.com graduate at the post of mutual fund broker, budget analyst, internal auditor etc at a decent package.
All these opportunities are reputed and will fetch you a package of two to seven lacs per annum.
After your M.com kick starting your career with these carrer choices and then climbing up the ladder is the safest and the best bet.
Brindavan College is the best M.com college in Bangalore that makes you stand out in the crowd of people holding an M.com degree.
It is thebest college in Bangalore with a name that speaks for its traditions and values.