Campus Facilities in Brindavan college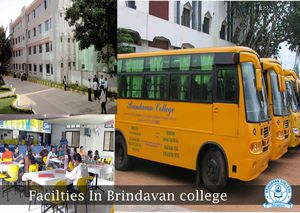 Brindavan College provides a campus environment that is secure as well as comfortable, with well-maintained buildings and play grounds. A separate body is appointed to maintain the buildings and grounds of the Brindavan College campus where students can learn, the faculty can teach passionately, and a place where all the students and staff are able to work efficiently.
Special Coaching in English: This coaching is meant for students from different states who have studied in diverse mother tongues other than English, provided if adequate numbers of students come forward for the same. To accomplish this, an experienced Guest Faculty is engaged for provide special coaching to the students. The charges are to be borne by the participating students itself.
Tutorial System: Tutorial classes are conducted by the end of each month. The duration of this class is approx two hours. Apposite questions are framed on the portions covered up till then and circulated to the students. The students and teachers of concerned subjects also join for discussions. A test is conducted after every two tutorial to evaluate the performance of the students.
Subject Clubs: The subject clubs in the department of Microbiology, Computer Science, Zoology, Chemistry, Physics and Commerce and Management studies in the college are active and offer plentiful opportunities to the students to attain academic excellence and be able to face the realistic life post studies.
Cultural Associations: To discover the hidden talents and to promote leadership qualities of students, the subsequent departmental clubs function under the administration of the Departmental Heads.
Microzeal - (Microbiology Department)
Infosiasts - (Computer Science Department)
Zoozest - (Zoology Science Department)
Chem-Tech - (Chemistry Department)
The Phenomenon - (Physics Department)
The Firm - (Commerce & Management Department)
Cul - Curio - (Literary, Cultural Activities)